Gadsbywicks.co.uk Review:
Medical Negligence Solicitors > Gadsby Wicks
- Gadsby Wicks are specialist medical negligence solicitors handling compensation claims for patients who have been injured by medical accident or through medical negligence. If we take on your claim, you pay nothing upfront and pay nothing if you lose. And there are no hidden charges - guaranteed.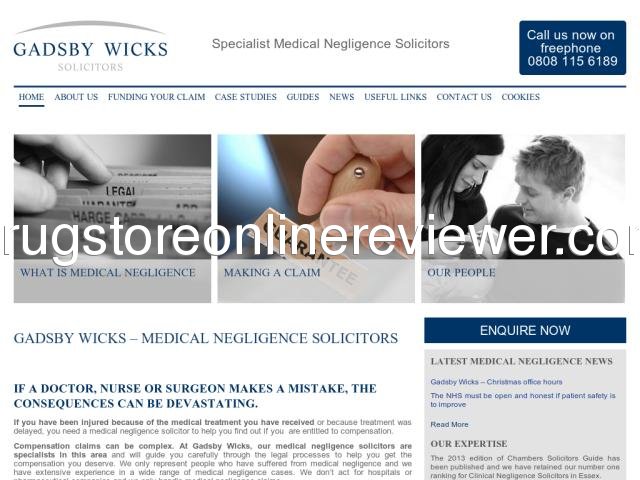 Country: Europe, GB, United Kingdom
City: London, England
laurennn - Perfect for enhancing my 3 wolf t-shirt

I recently purchased a 3-wolf moon tshirt from Amazon, and my expectations were exceeded. All the things other reviewers said were true - it's a truly mystical shirt. However, despite all the wonderful things that were happening in my life because of wearing the shirt, I couldn't stop thinking about how much better it would be if the wolves glowed in the dark. This thought haunted me for weeks - I missed work, I lost sleep, and when I did sleep I only had nightmares about the non-glowing wolves I had been donning for so long. I had tried before to add my own glow - I bought glow in the dark glue and applied it, but it came off in the wash. I carefully pinned glowsticks around the perimeters of the wolves, but they stopped glowing after only one day! I even tried buying those glow in the dark stars for your ceiling and extracting the glow, but it turns out you can't do that. Then I stumbled upon the perfect solution - uranium ore! I simply rubbed some on each wolf, and they haven't stopped glowing for three weeks. Another plus of this particular method of making the wolves glow is that the skin under the wolves always feels nice and warm - I don't even need a coat in the winter. Uranium ore is great for this purpose, or for anything else you need to make glow, including children and pets (they're so easy to find now!). I highly recommend this product.
Gaile Bowman - A must have for a fussy baby

I plan on doing foster care for drug withdrawal babies when I retire and after using these in the hospital setting I know they are a must have. Easy to put together. Variety of speeds, motions and sounds.
Martin Baggs - The American Dream vs the Biblical Gospel

This is a small (at just over 200 pages) but deeply thought-provoking book. David Platt, pastor of a mega-church in Birmingham, Alabama, challenges us to consider the radical demands of the gospel, and calls us to a number of radical "d"s: dependence, devotion, duty, discipling, danger and death.

Written in an easy flowing style, with excellent stories drawn from his own life and from those in his church, "Radical" could be a quick read. But I found myself underlining many key points and stopping to ponder their relevance and application for my own life.

The major part of the book focuses on the problems within American culture, a "culture that exalts self-sufficiency, self-esteem, and self-confidence." The gospel calls us to something different: "the challenge for us is to live in such a way that we are radically dependent on and desperate for the power that only God can provide." Sadly, many of us in the church have absorbed the message of Madison Avenue and cocooned ourselves in our suburban homes, feeding on the drivel of entertainment flooding our senses in this electronic age.

In chapter 3 Platt brings up the American dream, a concept he will use to contrast with the biblical gospel: "while the American dream is to make much of us, the goal of the gospel is to make much of God." He identifies clearly how we can honor God: "we were created by God to enjoy his grace . . . but also to extend his glory to the ends of the earth." We have a command in the gospel directly from the mouth of Jesus to go to the ends of the earth carrying the message of his gospel. "Anything less than radical devotion to this purpose is unbiblical Christianity." In this sense, especially as he deals with culture and its impact on Christianity, "Radical" reminds me of "Christless Christianity" by Michael Horton, another scathing review of American Christianity.

Platt spends some time on the radical duty of the Christian in evangelism. "Every saved person this side of heaven owes the gospel to every lost person this side of hell." In perhaps the most shocking picture in the book, he accuses most gospel-believing Christians of being practical universalists, "living each day as though it's not absolutely urgent to tell others about Christ." The statistics are sad and hard to get our heads around: "more than 4.5 billion people in the world today are without Christ . . . we clearly have no time to waste our lives on an American dream." The solution here is doing our radical duty in evangelism and making disciples, investing in relationships and winning the world one person at a time. Sharing the gospel, imparting life, making disciples, bringing glory to God fulfills this duty.

The American dream is centered on materialism, and Platt suggests this is a blind spot in American Christianity. He is not opposed to prosperity, but is concerned with how we embrace and use it. "God has given us excess, not so we could have more, but so we could give more."

Another aspect of the American dream is security. We desire wealth as much for the safety it brings. But Platt offers an alternate view. He asks the question, "What if we begin to look at the design of God as the most dangerous option before us? What if the center of God's will is in reality the most unsafe place for us to be?" This is a new way to look at God's will. Many of us have been taught that the center of God's will is like the eye of the hurricane, a place of peace and safety. Not so, says Platt. "The danger in our lives will always increase in proportion to the depth of our relationship with Christ." He goes on, "as long as Christianity looks like the American dream, we will have few problems in the world." The biblical gospel, in contrast with the American dream, offers danger rather than safety.

In the penultimate chapter Platt finally provides "the key to taking back your faith from the American dream." It is a radical solution: "your life is free to be radical when you see death as reward." We are brought up to see life as our goal and reward, not death. But when death is our crown we are willing to embrace anything, including suffering and danger. With this in mind, he summarizes the superiority of the gospel, "This, we remember, is the great reward of the gospel: God himself. When we risk our lives to run after Christ, we discover the safety that is found only in his sovereignty, the security that is found only in his love, and the satisfaction that is found only in his presence."

The final chapter presents a radical experiment, a challenge to embrace this new lifestyle for a year. This would be a journey of authentic discipleship. He dares us to:

1.Pray for the entire world
2.Read through the entire Word
3.Sacrifice your money for a specific purpose
4.Spend your time in another context
5.Commit your life to a multiplying community

This puts shoe leather on our faith in a way that will grow us and grow others. By becoming praying people of the Word, giving liberally, going urgently, and living dangerously we will be part of the transformation of lives and culture that God is ushering in.

As I completed the book, I can't say I have committed to all five of the components, but Platt's book has brought me face to face with my cultural distortions of the gospel, and God is in the process of working this message into my heart. "Radical" is one of the best books I have read in the last year. If you are a follower of Jesus, are you willing to read this and be radically changed? It's radically worth it!

Note: I received a free copy from Waterbrook but was not influenced to provide a positive review.
"Ali" - Great Guide

We buy Leonard Maltin's movie guide every 2-3 years. The reviews are concise and the star ratings are usually helpful. We sometimes disagree, but usually the ratings are very useful. The only fault we find is that some of the older actors are not listed now. Otherwise, a very helpful movie guide.
A. Pace - Fantastic, In-Depth Guide --- but missing Malaga?

I'm headed to Spain and Paris in a few months and bought this to help plan my trip (along with Rick Steves' Paris guidebook). The details are amazing. I have been able to plan every last detail of my trip, including buses and trains as well as restaurants, hotels and attractions.

I have two favorite parts of Rick Steves' books:
1. Rick lays out for you exactly what you should see in each city based on how many days you have to spend there. I love that he picks and chooses the most important things to see for you, so I don't have to do ALL the research by myself. (And of course, you can customize and do your own thing, but this was a VERY helpful starting point for me.)
2. I also LOVE his self-guided walks included for many cities. It's a great way to see the city and get a real feel for it while learning some of the history and seeing some of the famous sites. It's also free. Bonus! One of my biggest worries is going on a whirlwind trip to Spain and rushing from museum to museum so fast that I miss the "flavor" of the city. These walks fit the bill perfectly. Love it!

All in all, I'd buy this book again in a heartbeat! My only qualm with it is that it's completely missing the city of Malaga. There is not one mention of it in the book whatsoever. It's a fairly big city with an airport and everything. Are you telling me there's nothing of note whatsoever in Malaga? The same goes for Mallorca, Menorca and Ibiza (islands) which are not covered either.

Still, definitely a book worth buying. I'll be bringing it with me in my carryon!