Brnobihi.noads.biz Review:
will i gain weight on paxil
- Will i gain weight on paxil., paxil withdrawal weight gain, excessive drinking on paxil, paxil dosage recommendations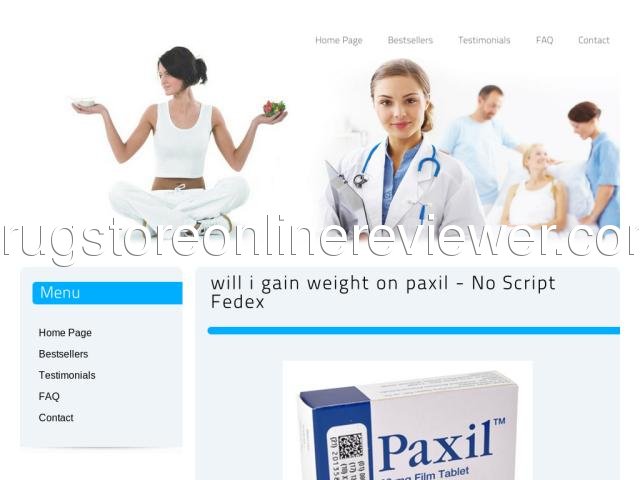 Country: North America, US, United States
City: 75202 Dallas, Texas
Thomas Stirewalt "Hannibal" - This was a GREAT deal!Not going to argue the merits of the operating system. I dislike the "metro" tile initial start up interface, BUT love the operating system under it once you get to the desktop. It is lean, fast, and not a hardware hog running on my older hardware.
It was easy to install, I chose the option that saved all of my existing programs and data. No hitches, no glitches.
LoveMyBaby - Not disappointed :)After careful review of this one and the other tablet for kids, we chose this one for my 3 year old daughter for Christmas. We are not disappointed and my daughter loves it. The graphics and voices are clear. There are so many things to choose from when considering what to download/purchase for this tablet. There's a variety of games, videos, etc for different ages and levels. The stylus is attached with a strap to the tablet, which is a bonus I didn't realize. She is finding it easy to use, with minimal help. It comes with four apps available for download after purchase and hooking it up to the leapfrog website. The fifth one is the choice of the parents and child, my daughter chose a video that helps teach alphabet letters and sounds. It's sturdy (because unfortunately it's already been dropped) and not completely slippery (but it's large for small hands) so I'm looking into buying a gel cover to help with the grip. The camera is fun, front and back, but she is just starting to get the hang of working the angles to take pictures because of the size and placement of the camera (compared to taking pics on my phone which is easier to manipulate). We were able to choose her age level (early preschool) on the tablet and we can change it as she gets older to help with challenging her more. My almost 2 year old is already interested in it lol. I would recommend this product for sure. It's exactly what we were looking for to help my 3 year old start preparing her skills for school and to challenge her current abilities.
Michael T. McCaffrey "sumofan" - Fujifilm FinePix HS50EXRFujifilm FinePix HS50EXR 16 MP Digital Camera with 3-Inch LCD (Black) I just received my Fujifilm HS-50. I had ordered a new charger and some spare batteries that arrived sooner today, so I had a chance to charge up before the delivery of the HS-50 and was ready to go on a few tests the minute I took it out of the box. THIS IS A GOOD CAMERA! I am more than pleased with the test shots: clear, well focused, the zoom is great. This should be a great camera for anyone wanting to not have to change lenses with changing requirements. Having had all the HS series cameras prior to this one, I can say this is a worthy update (zoom). I have always had great success with shots pleasing to me, particularly with the HS-30, and have no doubts whatsoever that the HS-50 will be perfect for MY needs/desires. NOW: I might have stated this with my review of the HS-30 previously, BUT: this is a camera with a 1/2 inch sensor. The pros out there might want more (I just sold off a DSLR with an APS-C sensor, 24mp, and all sorts of lenses due to NOT wanting to change lenses every time a great photo op came into being ... photo ops don't want to wait for lens changes ... and, let's face it, changing lenses (and risking getting dust on the sensor every time one lens is changed for another ... been there) is an absolute pain in the posterior!). The HS-50, right out of the box, has a great solid feeling to it, a camera of substance. Compared to DSLRs I have owned, the weight of this thing is an absolute non-issue. I bought a CASE LOGIC SLR HOLSTER case (same kind I carried the HS-30 in, which was totally perfect) along with the HS-50. I also bought a B&W Clear Haze Filter. A previous excellent review mentioned the clumsiness of the CHARGER that comes with the HS-50, I totally agree. It has a wire that has to be plugged into the charger, a non-starter for travel. I bought the WASABI 2 battery set with a charger that plugs directly into the wall. The FUJI charger will be relegated to a box somewhere. The one test I haven't done ... yet ... is to try to track a flock of geese in flight to test the write speed of this HS-50 vs the previous HS-30. I do want to say that I LOVE THE MANUAL ZOOM LENS!

Few observations: If you want great shots that should be pleasing to you, this could very well be the camera you're looking for. If you belong to a photo club where one's status is often determined by the size/price of your lenses or how many megapixels are in your camera, then this will not put you at the head of the class, if that's important to you. :-)

Post processing: This means using software to "tweak" your pics (I routinely do this to all my pictures ... whether from a DSLR or the FUJI). I find this adds that "finishing touch" that I personally love ... everyone has different tastes. Just thought this might be worthy of mention.

Lastly: Considering the price of the HS-50 vs. a DSLR and lenses, preferably quality lenses - and the fact this does not weigh anywhere near what a DSLR assemblage in a large case does ... AND the fact one does not have to change lenses all the time ... then I ... personally ... think this HS-50 is a steal.

UPDATE: 3-21-13: No camera is ever fully adopted by me unless I take it out to my favorite park and give it the FULL WORKOUT, which I just did this morning. I believe I said this in my review of the HS-30 a year or so ago: buying a camera ... any camera ... is a subjective thing. No camera is satisfactory to everyone. The camera that IS satisfactory to YOU, the reader, is the one that does what YOU want it to, based upon your interests/desires/budget. After my gaggle of MANY DSLRs in the past, I always find myself returning to the HS series cameras. Why? "Bangs for the bucks!" The things do just about EVERYTHING in one easily transportable package that doesn't break your neck/shoulders when "out there" taking pics. The HS50 performed, FOR ME, marvelously today ... and I never had any doubts, based upon my prior experiences with the HS series in the past. There is one thing I feel like alerting buyers/would be buyers: be a bit careful of the ON/OFF switch. It appears a bit sensitive if you accidentally brush against it when moving the camera about. Everything worked fine today, and the ZOOM ... that wonderful zoom ... worked superbly. I got shots today that I NEVER would have gotten with the VERY expensive DSLRs I disposed of (without buying even more/increasingly highly expensive zoom lenses).

Before buying ANY camera, ask yourself what you want to do with that camera, what are your realistic expectations ... how much do you want to spend, when all is said and done ... then you'll make the right choice. AND: Whatever camera you do end up with, remember to CONSULT THE INSTRUCTION MANUAL when you have questions. The manuals give many insights into what your camera will/won't do. :-)

Leaving you with a thought: "It is an illusion that photos are made with the camera... they are made with the eye, heart and head." - Henri Cartier-Bresson.

Regards, Mike
Sandi Arnone - A Fantastic JourneyI chose this rating because of the clear and concise chronicle of the historical Jesus. The text allows the reader to enter the society at that time and understand the politics of the day and how Jesus became a victim of the times. It allowed me to merge my deep religious belief in Jesus with the reality of how he walked the streets of Judea. It was fascinating and thought provoking. Thank you Bill O'Reilly!
C. Sanko - The greatest Pink Floyd albumI, as many other Pink Floyd fans in the beginning, had disdain for this album. Five songs, two under two minutes and three over ten? What IS this? And so, I like everyone else loved Wish You Were Here, Dark Side of the Moon, Meddle, etc. Never giving Animals a second thought.

I recently listened to this album out of boredom and was absolutely blown away. From the beginning chord of Pigs on the Wing Pt. 1 to the similar ending chord of Pigs on the Wing Pt. 2, you are in for a treat. The first two songs serve as bookends -- both musically and lyrically. The album itself deals with the shortcomings of capitalism. The Pigs on the Wing tracks serve as the glimmers of hope in the darkness of our world -- the song Dogs talks about how people are selfish and only work for themselves. Pigs (Three Different Ones) has to do with three types of the three social classes to which society is confined to. Finally, you come to Sheep, which deals with people ignoring all the problems of the world and blindly following a leader or leaders. The two bookends, as I said, serve as a beacon of hope in the dark of a man singing a love song to his wife amidst all of this confusion and sadness. If the lyrics didn't do it for you, at least try the music.

Dogs is a 17 minute epic -- not as long as some of the other Floydian epics, but that does not mean a thing. For me, it is the greatest Pink Floyd track. Blistering solos, singing by both Gilmour and Waters, Richard Wight solos in the last half. It's everything that is Floyd. And if you hear the song, you know what I mean -- 'Stone! Stone! Stone!'

Pigs is another big song that opens with one of the most WICKED keyboard sounds I've ever heard in my life. It chills me to the bone. It then follows with Roger Waters singing and one of the most catchy choruses I've ever heard -- 'ha ha, charade you are!' The song is dominated by guitars and keys, it's an amazing track.

Sheep is the final epic on the album. It opens with the sound of sheep bleating and a catchy bass line, ala Money. The bassline dominates the track. However, as before, everyone else shines as well. Gilmour has some of his best guitarwork in this track, especially the last two minutes. The last two minutes are the best on any Pink Floyd album!

Finally you have the Pigs on the Wing twins, which are two purely acoustic songs. Very haunting and catchy melody on these guitars. But also different from the rest of the album -- more hopeful, happy.

So, there you have it. With Animals, you have Pink Floyd's darkest album, musically, and also their most daring lyrics wise. This all calls for a great album, but because it's done by Pink Floyd, it's simply their best album, far outshining both Dark Side of the Moon and Wish You Were Here.