Baby-medical-questions-and-answers.com Review:
A Pediatrician Answers Baby and Toddler Medical Questions
- Dr Maud, a pediatrician gives easy-to-understand health information and practical medical advice to parents of infants and toddlers asking for answers to their medical questions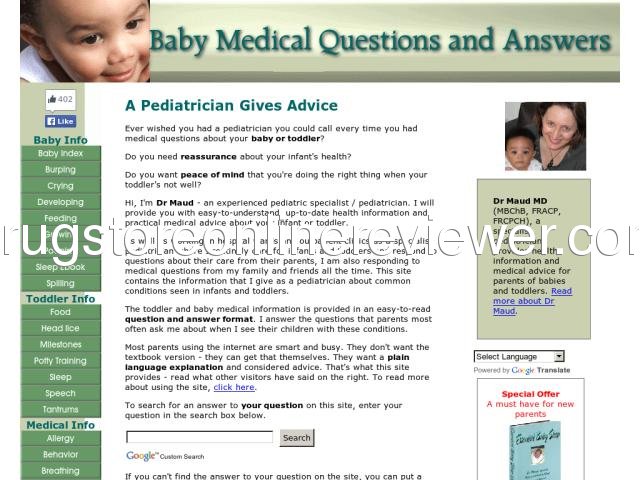 Country: North America, CA, Canada
City: H3G Montreal, Quebec
J Lyons - great hydration packWe have 4 of these. This one was a gift for my 78 year old Grandpa. He spends a lot of time out doors gardening and in the hot Alabama sun. This is perfect for him. Not to heavy and keeps him hydrated for a few hours. I recommend this for anyone who struggles with keeping up with water bottles, like myself!
Jaw - worksi hardly ever get cold sores, like years apart. i got one in june i think, late june maybe, under my lower lip. i didn't think anything of it, it didn't hurt, and by the second day it was dried out and getting a scab. i forgot about how long it takes them to go away. but it didn't go away. it didn't hurt, it was dry, but it just stayed there, it was quite noticeable, and as it happened, my daughter's wedding was coming up at the end of July. She was starting to worry that it would still be there for the wedding photos because it just wasn't changing, it wasn't getting any better, after weeks.

i figured if you don't put something on them at the beginning, nothing is going to help so i never tried getting any remedies until less than a week from the wedding and we were at Whole Foods, and i saw a remedy displayed that said Cold Sores on it, so i picked it up. When i was paying for my groceries, the guy who was bagging them said i should try Abreva. He said he had tried lots of other things and they didn't work, he said i would get it at a drug store. i laughed because i had already paid for the other stuff and he was saying it didn't work.

We went to Walgreens after that, we were going anyway, not just for the Abreva, but i got some, shocked by the price but whatever, the guy at Whole Foods really was convincing. I put it on according to the instructions, although it said you should put it on at the first sign, and this was after probably going on 4 weeks with no real improvement in how it looked, i was afraid by then it was permanent. I put it on and by the end of the next day the thing was fading, definitely. i kept putting it on and the wound was getting lighter, much better, my daughter noticed. Hard to believe that after all that time, it would cause improvement. I thought maybe it was a coincidence and that it would've gone away at that point anyway. But still, maybe it helped, it was a coincidence that looked good for Abreva. It did steadily go away after that, although if the light is right, i can still see a slight discoloration. Weird.

Then, a few weeks later, i inadvertently touched my upper lip and felt a slight soreness. i checked it again in the next few minutes and felt a tiny thing that was like a pimple. i looked in the mirror, i couldn't really see anything, maybe a little redness. I figured maybe it was a cold sore, being right on the edge of the lip, so i put the Abreva on. It was definitely a tiny pimple with a little redness, yellow in the middle, and a little sore. I was certainly catching it at the beginning so i was optimistic.

that was a Thursday night. I kept putting Abreva on all day on Friday. I was disappointed because it didnt' seem to change, it didn't get worse, so maybe that was a good sign, but it also didn't get better, and i had read some user reviews were some people said the sore was going away by the third day, but it wasn't changing at all, for sure. still i kept putting it on, frequently, more than it says on the tube. On Saturday i was sick without any warning, my throat was swollen, the uvula, and i felt a little weak. i took it easy and kept putting Abreva on the sore, but it didn't seem to get better. Also not any worse. On Sunday i woke up and i was fine and the cold sore was going away. This is Monday and it's virtually gone now. it was definitely almost gone yesterday, the third day.

So i would have to say it works. i will keep it on hand and will use it again.

I got the pump kind. LIke some other reviewers, when i tried it this recent time, found that too much of it squired out, and some of it ended up in the sink. But i found that after the first couple of times, i could control it and keep too much from coming out. It was still a little too much that i had to wipe on a kleenex, but that's because the sore was so tiny and it wasn't so much that it was a problem.

i ordered another tube so i can keep some at work.